Toddlers & Tiaras Tumbler: Pageant Star Falls FOUR Times On Stage!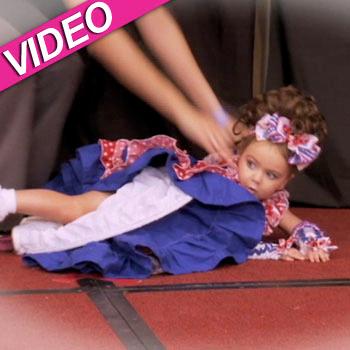 By Alexis Tereszcuk - Radar Senior Reporter
Oh no! Toddler down!
There's nothing worse than falling on stage, but for one little pageant princess she hit the ground four times!
In this exclusive sneak peek of the upcoming episode of Toddlers & Tiaras, obtained by RadarOnline.com little SamiJo, 2, has a brand new outfit on for America's Ultimate Beauty Pageant and the hoop skirt in her dress causes her to trip.
Article continues below advertisement
Over and over and over again.
"I hope the judges know she had a wardrobe malfunction," her pageant mom Tricia says after blurting out the f-word watching her little girl tumble.
Unaware of the potential scoring penalty she might incur, SamiJo keeps her smile in place as she trips one, two, three and finally four times on the stage.
Check out the exclusive Toddlers & Tiaras sneak peek below and watch the show Wednesday 10/9c on TLC.