Toddlers & Tiaras Star Knocks Back Spiked 'Go-Go Juice' After 'Pageant Crack' Fails To Work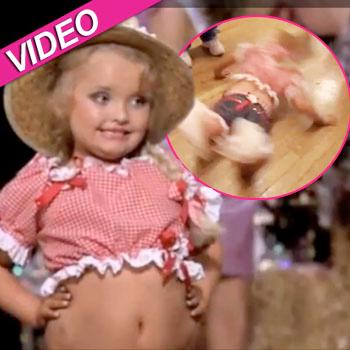 Article continues below advertisement
"A lot of pageant moms and people know what the 'special juice' is, everybody has their different concoctions," explains mom June, from McIntyre, Georgia, as her daughter spins around manically in a circle. "Special juice is to help energise her."
Some of the other parents have slammed this competition tactic, comparing it to doping their kids, but June, defends the drink.
"A lot of moms say, 'Oh, well you're doping up your child,' well hey, no I'm not. I'm not hurting her," she explained. 'We have tried the pixie sticks that are known as 'pageant crack,' we went through 15 bags at one pageant and they just don't do anything for her."
But when it comes to the magic juice, Alana is on top form. "I am ready to go!" she exclaims after gulping down a bottle.
"She just drinks it for pageants, to give her that extra 'oomph.' So, whatever works for your child, use it," said June.
In a bizarre clip showing Alana out of her costume, she sings to the camera. "My special juice is gonna help me win!"
"I like to win money!" she squealed earlier in the show. "A dollar makes me holler, honey boo boo."
New episodes of Toddlers & Tiaras air on Wednesdays 10/9c on TLC.