Toddlers & Tiaras Tot Dresses As Pretty Woman Prostitute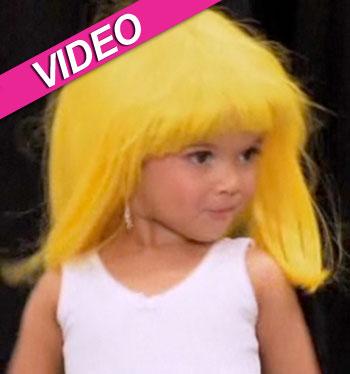 By Alexis Tereszcuk - RadarOnline.com Senior Reporter
Did a pageant mom finally cross the line with her daughter's risqué costume?
In a sneak peek of the upcoming episode of Toddlers & Tiaras obtained by RadarOnline.com little 3-year-old Paisley dresses like Julia Roberts from her hit movie Pretty Woman – where she played a hooker.
The other mothers seem shocked at a little girl wearing black thigh high boots, a white tank top and blue mini skirt – the outfit Roberts was wearing in the movie when Richard Gere first picked her up.
Article continues below advertisement
"Julia Roberts in Pretty Woman as a prostitute," one shocked mother says. "I would never ever do that to my little girl. Ever!"
Watch the video on RadarOnline.com
The mom thinks this outfit has absolutely crossed the line, and the backdrop of her act is a fake front of the Beverly Wilshire hotel, where Roberts lived for a week in the movie when Gere paid her $4,000 for her services.
"Us pageant moms already take a huge rap for what we're doing to our little girls and it's outfits like that that give us a bad rap," the mom says about the working girl costume.
MORE ON:
Toddlers and Tiaras