10-Year-Old French Model Ignites Worldwide Controversy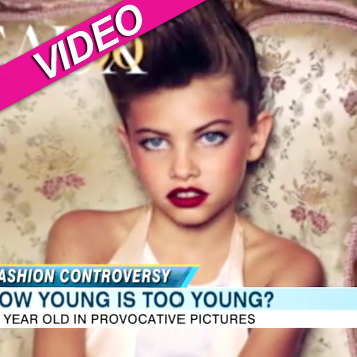 Thylane Loubry Blondeau is the most talked about model in France these days -- even if she's not quite finished with elementary school.
Yes Blondeau, only 10-years-old, is drawing tons of attention for her role in the French Vogue's feature pictorial "Quel maquillage à quel âge?" -- or in English, "What makeup at what age?" -- in which she's fully made up, preening and posing in a sultry, seductive manner befitting of adults, along with two other preteens.
Article continues below advertisement
As you'd expect, the images are making many uncomfortable.
"I think that I'm seeing a very young girl being sexualized, being gazed at in a very adult way," Mommyish.com deputy editor Koa Beck told Good Morning America Thursday.
Watch the video on RadarOnline.com
American Psychological Association senior director of women's programs Shari Miles-Cohen told ABC News, "We don't want kids to grow up too fast.
"We want them to be able to develop physically, emotionally, psychologically and socially at appropriate rates for their age."
The young model -- whose parents are designer Veronika Loubry and soccer player Patrick Blondeu -- has a personal website which features an expansive gallery of similar images.
In one image, Blondeau's sitting on a bed topless with a boy looking toward her. The caption reads, "SHE'S NOT WEARING A TOP BECAUSE SHE DIDN'T THINK IT WOULD OFFEND ANYONE shoot me."