Exclusive
Toddlers & Tiaras Star Sends Out Cease & Desist: Isabella Was Not 'Gyrating' To Music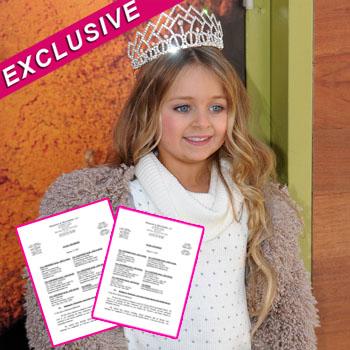 By Amber Goodhand - Radar Reporter
Not many five-year-olds have a lawyer, but RadarOnline.com has exclusively learned Isabella Barrett of Toddlers & Tiaras fame has retained an attorney to fight allegations of overt sexuality.
Last week images of Isabella in a New York City nightclub singing along to LMFAO's hit, Sexy And I Know It, were splashed across the Internet insinuating that the young girl was "partying" and being coached by her mother, Susanna Barrett, to sing the sexually charged lyrics.
Article continues below advertisement
EXCLUSIVE DOCUMENTS: Read Isabella's Cease And Desist Letter
"The Articles have asserted, including, without limitation, that the Barretts were 'partying' at a 'nightclub' at 11:00 p.m., and that Isabella Barrett -- a five-year-old child -- was 'gyrating' to the music," the Cease and Desist sent out to a handful of media outlets on Friday by Nesenoff & Miltenberg read.
"These allegations are demonstrably false, defamatory, and present out-of-context factual assertions that fail to convey the actual event."
According to Isabella's attorney, the tiny tot was attending a pet charity fundraiser at the establishment and was only at the event from 7 p.m. until 8:30 p.m.
"A basic investigation into the facts of the event would have quickly and easily refuted the false allegations in the Articles," the legal document reads.
"Either you failed to undertake even this basic investigation, or you did so and published the Article maliciously."
Article continues below advertisement