Toddlers & Tiaras Mom Slams Daughter For Losing 10 Lbs, Brings On The Butt Paste!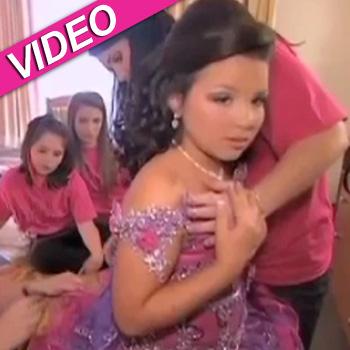 By Alexis Tereszcuk - Radar Senior Reporter
You can have the perfect teeth, gorgeous hair but if your dress doesn't fit you might not win the beauty pageant!
In this sneak peek of the upcoming episode of Toddlers & Tiaras eight-year-old Ever Rose has lost so much weight that her mother is upset about her dress not fitting!
"You got to quit losing all that weight Ever Rose," her mother says, as she has trouble making the glitzy dress fit her daughter.
Article continues below advertisement
"Today is the 1st pageant Ever Rose has done since she lost the 10 pounds and we're excited to see if it makes a difference."
As she struggles to make the pink and blue sequins dress fit, her mother is worried about what the judges will think.
"You don't get as good of a score if your dress doesn't look good," she says and panics about how to fix it, bringing in the pageant secret weapons.
"Tell her we need some butt paste or two-sided tape."