JonBenet Ramsey's Father Slams Toddlers & Tiaras, Regrets Letting Her Compete In Pageants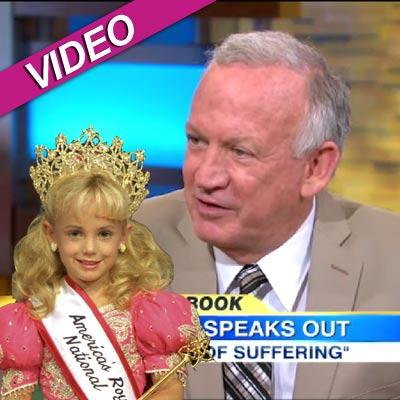 By Debbie Emery - RadarOnline.com Reporter
JonBenet Ramsey will always be remembered as the coiffed pageant beauty queen in heavy make-up, tiny high heels and a puffy dress, but her father has very different memories of the murdered six-year-old, sharing them in a new interview, as well as slamming the hit TLC show Toddlers & Tiaras.
"I see her, you know, in shorts and t-shirt and hair kind of scruffy and just kind of a kid," John Ramsey told Good Morning America on Tuesday as he recalled the rambunctious tomboy who liked to play rough and hike with her older brother, Burke.
Article continues below advertisement
Despite his late daughter bringing the child beauty pageant culture to the forefront of the public's awareness after her death on December 26, 1996, Ramsey revealed that he found reality TV shows like Toddlers & Tiaras disturbing.
"It's very bizarre," he said, pointing out that his family had a very different approach to the ambitious pageant moms on the show.
"JonBenet and Patsy did that for fun, Patsy had just come out of cancer treatments, I think deep down she didn't know how long she had to live and how much time she had to spend with her child, so tried to pack a lot into a day," he explained.
"The perspective they took on it was it was just fun, we used to joke that JonBenet had to lose a few contests to understand that you do lose in life, you don't always win.
"I saw an element of competitiveness that I didn't think was healthy," he went on to admit. "I used to always tell her that it's your talent that counts, don't worry if you're not always the prettiest."
According to ABC.News.com, John detailed a disturbing incident when a strange man approached his wife and daughter during a Christmas parade that made them both very uncomfortable.
Article continues below advertisement
"I think about these things now and it makes me cringe. We were so naïve. I now believe with all my heart that it's not a good idea to put your child on public display."
Ramsey also fears that the public attention may have led to the premature death of JonBenet, who was found in the basement of her family's home in Boulder, Colorado, the morning after Christmas, with her wrists tied above her head and duct tape over her mouth. She had been strangled and bludgeoned to death.
After a 15-year investigation during which John and Patsy were initially the prime suspects, the case remains on-going and unsolved.
In the heartfelt interview on Tuesday, Ramsey recalls the horrifying discovery of his daughter's body that sparked a media frenzy.
"When I found her it was a rush of relief," he explained. "And then of course within moments, I realized that she probably was dead. But she was back in my arms."
Article continues below advertisement
After that terrible day, "I had 24-hour-a-day cameras outside of our house for, gosh, a year, probably," he said.
Having lost his wife Patsy to ovarian cancer in 2006, John is now remarried and living in Michigan, but believes that JonBenet's killer is still at large.
"He's either alive, dead or in prison, and one of those three," he said.
In his newly released book, The Other Side of Suffering, Ramsey talks about how he is finally moving on after a decade and a half of pain and grief and learning to let go of his anger. "I was angry for a time. But you can't stay there. It's damaging to you as a person."
Instead of being bitter, he keeps the memory of his daughter - who would have been 21 this year – alive by carrying a medal that she gave him.
"She came up to me and she had won this medal and said, 'Dad, I won this for you,' and that was about five days before she died. So after she died, I thought 'I want that medal.'"
RELATED STORIES:
Toddlers & Tiaras Meltdown: 'I'm Really Mad!' Screams Angry Pageant Mom