Exclusive
JonBenet Ramsey's Father Remarries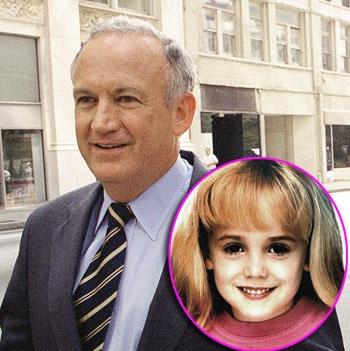 - RadarOnline.com Senior Reporter
JonBenet Ramsey's father has finally found love again, after the tragic loss of his beauty queen daughter and her mother, and has married for the second time.
John Ramsey, 67, tied the knot with his girlfriend Jan Rousseaux, 53, a Las Vegas based fashion designer, on July 21 the National Enquirer exclusively reported.
In an emotional interview, John said that his daughter, JonBenet, who was murdered in his home on Christmas night in 1996, would be proud of her father's marriage. "I have no doubt she will be smiling," he said. JonBenet would have turned 21 on August 6.
Article continues below advertisement
Her mother Patsy Ramsey passed away in 2006 after a long struggle with ovarian cancer. John tragically lost his oldest daughter Elizabeth in a 1992 car accident when she was 22.
John said that he met Jan, who is divorced with two grown children, at a friend's wedding in Denver in 2009 but they didn't begin a relationship until she texted him last year to let him know she was thinking of him.
"Immediately he asked if he could come see me, just as friends," Jan said and the two fell in love and married in Charlevoix, Michigan.
John briefly dated Beth Twitty, the mother of Natalee Hollway, the Alabama teen who vanished in Aruba in 2005, but they broke up four years ago.
See exclusive wedding pictures and all the details of JonBenet's dad's romance in the new issue of the National Enquirer on newsstands Friday.
RELATED STORIES:
Honeymooning Hotties! Nick Lachey And Vanessa Minnillo Steam Up St. Barts