Mother Defends Her Ten-Year-Old Daughter's Racy Photo Spread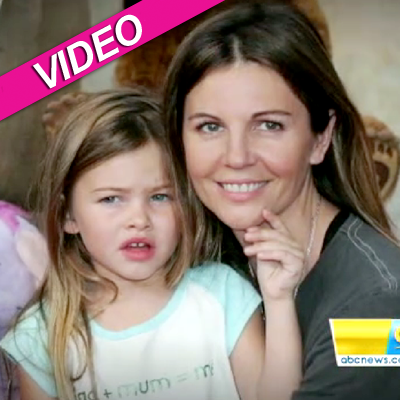 Controversy still swirls around ten-year-old model Thylane Blondeau, whose racy photographs for a fashion spread in French Vogue shocked the world.
A woman claiming to be Thylane's mother -- fashion designer Veronika Loubry -- posted a message on Thylane's Facebook fan page, saying "something's going wrong at the moment."
ABC News -- which profiled the story once again on Tuesday's Good Morning America -- said it could not verify if Loubry did in fact post the comment, but noted that within hours, the fan page was closed.
Article continues below advertisement
However, Loubry did tell a French newspaper that the photographs are a work of art and that "the only that shocks me about the photo is the necklace that she's wearing, which is worth three million euros."
One of the photos shows the young girl lying on a tiger rug wearing a red ballet outfit with her feet in the air, a full face of make-up, dripping in diamonds and looking into the camera in a provocative manner.
Another shot shows the girl wearing what appears to be a beige nightgown with black heels, sitting in a chair with her gown slightly raised to her thighs.
The photographs have caused quite a stir and getting mixed reaction from the public.
One person who commented on ABC's Good Morning America's message board said "as a mother of two, and really just as a normal person, I find this sad and repulsive."
MORE ON:
Good Morning America
Another individual chimed in and wrote: "I see nothing sexual about these pictures."
As for the girl's mother, she's defending her and her daughter's decision to the end, saying: "I want to protect her from the deepest of my heart. She's so young."