Exclusive
16-Year-Old Bride's Mom Defends French Culture Over 10-Year-Old Model Controversy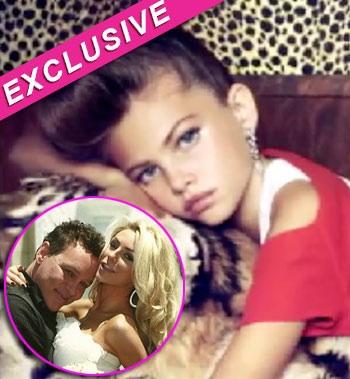 - RadarOnline.com Senior Reporter
Photos of a 10-year-old French model are causing an international furor and raising questions about the negative impact of starting modeling at such a young age and of the dangers of sexualizing a child.
RadarOnline.com spoke exclusively with someone who knows a thing or two about controversy, Krista Stodden, the mother of 16-year-old Courtney Stodden who married 51-year-old actor Doug Hutchison, and she shared her thoughts on allowing a ten-year-old to model and on that child modeling topless.
Article continues below advertisement
"I personally would never allow my child to pose without a top on," Krista said.
Thylane Loubry Blondeau is the 10-year-old girl who appears in French Vogue's pictorial "Quel maquillage à quel âge?" which means "What makeup at what age?" in English but the photos of the little girl without a shirt on appear on a website with hundreds of her modeling shots.
"I understand it is a different culture in France and whatever they feel comfortable with is not what we feel comfortable with here," Stodden told RadarOnline.com. "I'm so glad they feel comfortable in their culture to do that."
However she is adamant that being photographed without her top on is not an option right now for her own teenage daughter.
"Courtney has never showed a nipple anywhere, and there are no naked pictures of her out there," her mother insisted.
"Teenagers and children are different," Krista said. "I worry about kids that are running through sprinklers in their front yard without tops on, there are so many predators and bad people out there."
Article continues below advertisement
Krista's daughter didn't do child beauty pageants but she signed with a modeling agency at 11 when they approached her after a photographer met Courtney with her mom.
"I think that when your child is old enough to come to you and say this is what I want to do then that is when a parent needs to do that."
The young French model's parents are designer Veronika Loubry and soccer player Patrick Blondeu.