Exclusive
Doug Hutchison & 16-Year-Old Bride: 'Nothing Inappropriate About It Whatsoever'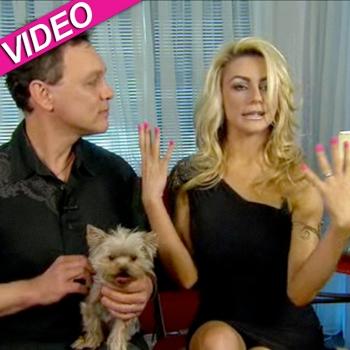 By Amber Goodhand - RadarOnline.com Reporter
Actor Doug Hutchison and his 16-year-old bride Courtney Stodden are making no excuses for their relationship.
In wake of RadarOnline.com breaking the news of their controversial marriage, the couple have given yet another television interview – this time with E! – to defend their marriage and 35-year age gap. (Last week, the couple went on Good Morning America in their first on-camera interview).
Article continues below advertisement
"Our communication was very innocent and open - there was nothing inappropriate about it whatsoever," Hutchison told E! News in an interview that aired Tuesday night.
"There were no sexual innuendos, there was nothing until we began to fall for each other. We started using the L-word and confessing to one another we were having feelings for each other."
In the somewhat bizarre interview, Hutchison nervously strokes his dog while Stodden gets a little over-zealous with the camera, attempting sexy faces and poses.
As we first reported, Stodden is an aspiring actress and singer who was a virgin when she married - but the same can't be said for 51-year-old Hutchison.
"I've got to say, if there's only one caveat to the ocean between our ages," he said, "I wished I was a virgin when we met."
"It's fine that he wasn't!" Stodden said. "He's a tiger!"
"You're so bad," Hutchison said, avoiding an on-camera kiss with Stodden.
Article continues below advertisement
The Green Mile actor explained that they were both advised not to go public with their relationship because it would hurt their careers, but the couple had no plans of hiding their love.
"I believe there's one rule in Hollywood, and that's that there are no rules," Hutchison said.
"That also can apply to love, and there are no rules, so... Was I afraid of going public? No."
As for speculation that Stodden appears much older than her 16 years, Hutchison said there's only one person responsible for that: God.