Actor Doug Hutchison Breaks Silence About Marrying 16-Year-Old Girl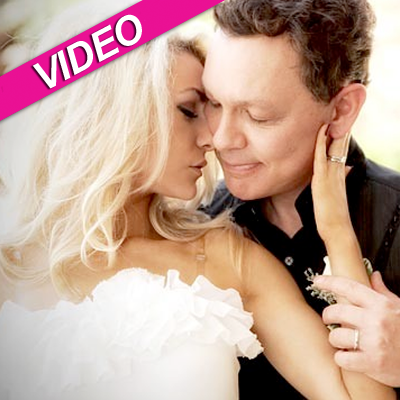 By Adam S. Levy - Radar Staff Writer
He's 51, she's 16, and their relationship has people buzzing, for better or for worse.
Yes, we speak of the marriage between character actor Doug Hutchison (Lost, The Green Mile) and his 16-year-old bride, Courtney Alexis Stodden.
The controversial couple, who tied the knot May 20 in Las Vegas, sat down with Good Morning America's Lara Spencer Friday to discuss how their relationship -- which boasts a 35-year age difference -- developed.
Article continues below advertisement
"The way we met was really beautiful," Stodden said. "My mother was managing my career. Her friend told my mother that Hutchison was holding some workshops for acting. And I was very interested in acting. So what better way than to connect that way?"
Hutchison said Stoddard "sent me an email, and our exchange, at first, was just really about business."
"Totally innocent!" the blonde teen chirped in.
Hutchison claims it was Stodden -- who he thought was in her 20s -- that took the relationship to a romantic level, as he said "she was being very flirtatious."
"Well come on, he's so handsome," Stodden said.
Hutchison said his "world turned upside down" when he found out about her age, but the heart wants what the heart wants.
"It didn't make me want to walk away," he said, "but it definitely was a struggle inside my heart … because I had already started falling for her."
Article continues below advertisement
Lucky -- and we mean hitting-the-lottery lucky -- for Hutchison, Courtney's parents were OK with their daughter's romance with a man technically old enough to be her grandfather.
Courtney's mom Krista called her daughter a "good Christian girl, boasting she was a "virgin when she married Doug," while her father Alex Stodden told us exclusively that "Every father can only pray to have such a man behind their daughter.
"Courtney is one of the most level-headed girls out there and I'm not just saying that because she's my daughter. And Doug is the nicest man I've ever met in my life."
As RadarOnline.com previously reported, Stodden's show biz ambitions also entail a career as a pop singer, as a music video on her YouTube account, Don't Put It On Me, had racked up more than 1.8 million hits early Friday.
In it, we see Courtney on a small boat doing her best Paris Hilton impression, as she's clad in a revealing violet dress and holding an over-sized beverage container in one hand while cradling a small dog in the other.
Article continues below advertisement
In another one of her videos called Car Candy, we see the blonde wearing a tight-fitting camouflage top while singing about ... we'll let you be the judge.
"We'll burn rubber down the street ... your fuel injection really turns me on!" the 16-year-old newlywed sang.