Exclusive
16-Year-Old Bride Courtney Alexis Stodden - Behind The Music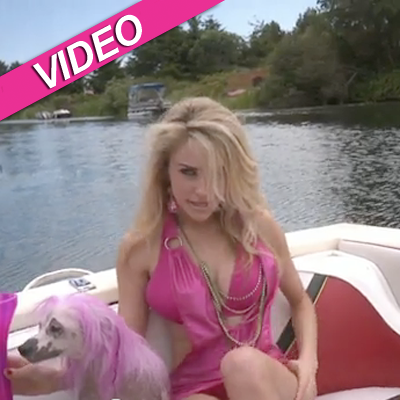 She's 16, she's beautiful -- and she's married.
Yes, all of Hollywood Tuesday was buzzing about Courtney Alexis Stodden, the 16-year-old bride of Lost star Doug Hutchison, 51.
Now, RadarOnline.com has a closer look at Stodden's burgeoning career as a pop singer.
Her top ranked video, Don't Put It On Me, has racked up more than 45,000 YouTube hits (and many must be from the haters, as she's got 62 likes vs. 2,222 dislikes).
Article continues below advertisement
In it, we see Courteney on a small boat wearing a revealing hot pink dress, holding an over-sized beverage container in one hand and cradling a small dog in the other (a la Paris Hilton).
As she stares into the camera, she sings the dance-pop song:
"Don't put it on me girl,
Don't put it on me girl, No,
Don't put it on me girl,
Don't put it on me girl, d-d-d-don't!"
In her second most popular clip on YouTube, titled Car Candy, we see the blonde wearing a tight-fitting camouflage top while driving a convertible with the beach in the background.
"We'll burn rubber down the street ... your fuel injection really turns me on!" the 16-year-old newlywed sings.
As we previously reported, Courtney's parents have pledged their full support to their daughter's marriage to the veteran character actor -- Courtney's mom Krista called her a "good Christian girl" who was a "virgin when she married Doug."
And as for her dad?
"Every father can only pray to have such a man behind their daughter," her father Alex Stodden, 47, told RadarOnline.com exclusively on Monday. "Courtney is one of the most level-headed girls out there and I'm not just saying that because she's my daughter. And Doug is the nicest man I've ever met in my life."