Exclusive
16-Year-Old Bride's Mother 'Totally Supportive' Of Marriage To 51-Year-Old Actor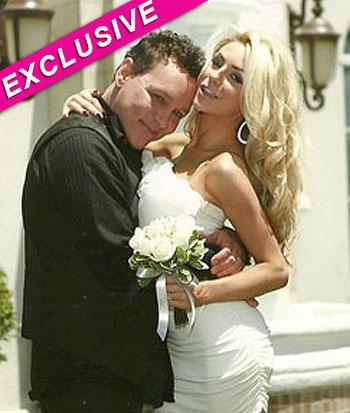 They say love has no boundaries, and certainly doesn't care about age.
That's good news for newly married couple Courtney Alexis Stodden, the 16-year-old pop artist, and her 51-year-old husband, actor Doug Hutchison, since even the teen's mother approves of their marriage.
"We are totally supportive of this marriage," Courtney's mother Krista Stodden exclusively told RadarOnline.com about her daughter's marriage to the Green Mile and X-Files actor.
Article continues below advertisement
"Doug is a wonderful man and we love him."
The happy couple tied the knot in Las Vegas, Nevada on May 20, and Krista confirmed that at least one parent had to sign the permission form for the marriage to take place.
"They are very much in love and we are so supportive of this," Krista gushed about her blushing bride daughter.
Critics are already questioning the couple's 35 year age difference, but her mother wanted to set the record straight.
"Courtney was a virgin when she married Doug. She is a good Christian girl."
Meanwhile the happy couple said: "We're aware that our vast age difference is extremely controversial, but we're very much in love and want to get the message out there that true love can be ageless."
With long blonde hair and a killer body, Krista also wants people to know that her daughter hasn't had any plastic surgery.
"She is a beautiful girl. She has real breasts, real lips, she's not plastic."