Holly Madison Blasts Crystal Harris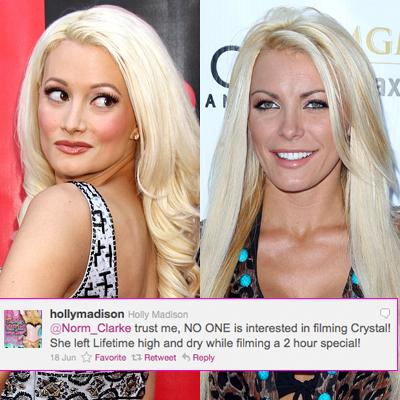 by RadarOnline.com Staff
UPDATE: Hugh Hefner just tweeted that he and Crystal will stay in touch, saying: "Crystal came by to see how I've been doing. We remain close friends."
Hugh Hefner's former girlfriend Holly Madison has lashed out at runaway bride Crystal Harris in a bitter war of words in the wake of her calling off her wedding to the the Playboy mogul.
Article continues below advertisement
Madison took to Twitter on Saturday night -- the night Hef and Crystal were set to walk down the aisle -- to express her thoughts on the situation and RadarOnline.com has them all.
Responding to a tweet by Las Vegas gossip columnist Norm Clarke about Crystal's public appearance at Wet Republic on Saturday, Holly tweeted: "That's a new low."
"Trust me, NO ONE is interested in filming Crystal! She left Lifetime high and dry while filming a two hour special," she continued, referring to the proposed filming of her wedding to Hefner.