Exclusive
16-year-old Bride Courtney Alexis Stodden Hits Back At Bullies -- Video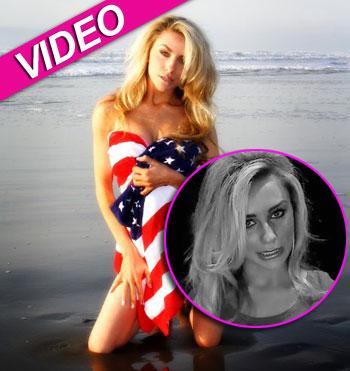 Her ample curves, white blonde hair and full face of make-up makes newlywed Courtney Alexis Stodden look much older than her 16 years.
But a Youtube video of the aspiring pop star - who just married 51-year-old actor, Doug Hutchison - obtained by Radaronline.com proves she is still struggling with schoolgirl bullying.
The candid video shows the teenager speaking out against her haters, who have branded her 'fake', 'vain' and a 'slut'.
Article continues below advertisement
The seven minute campaign against cyberbullies was filmed six months ago, but her engagement ring is still clearly seen on her left hand.
Stodden does not hold back as she strikes back at comments made online about her including; 'You were meant to be killed' and one calling her a 'porn star slut'.
She also addresses rumors of a boob job.
"My breasts are real," she said. "Everything about me is real. My hair is real. My teeth are real. My eyelashes are real. My breasts are totally real, believe it or not, they are."