From Pretty Woman To Lady Gaga! Toddlers & Tiaras' Paisley Dickey Rocks Another Raunchy Outfit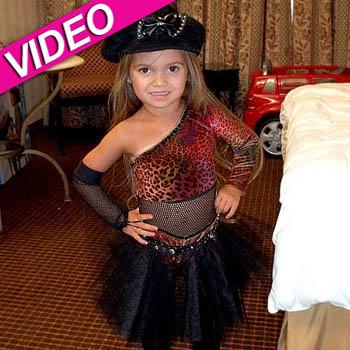 Article continues below advertisement
"I am ecstatic about her outfit," says mom Wendy Dickey. "It does have some sheer in the midriff but hopefully people won't be calling her a 'Prosti-tot' again."
The pint-sized beauty queen drives onto the stage in a bright red toy convertible boasting the license plate 'Peppermint Paisley,' and despite a few parking problems she flings off her leather studded jacket and breaks into a raunchy routine.
Paisley and her momager got their fair share of flack for last year's prostitute-with-a-heart-of-gold outfit so their latest copy-cat costume will no doubt cause an uproar among viewers and fellow pageant competitors.
The full episode of Toddlers & Tiaras airs Wednesday at 10 p.m. on TLC.
In the meantime, take a look at Paisley's raunchy outfit below, and tell us what you think in the comments.
RELATED STORIES: