Mini Lady Gaga Puts On Her Poker Face In Killer Performance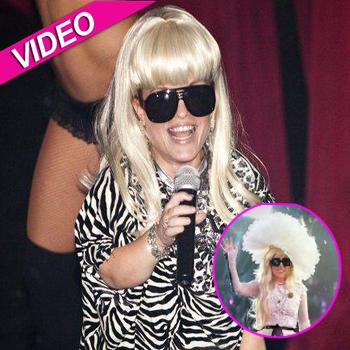 Lady Gaga's biggest fan is only four feet tall but she has a huge presence when she takes the stage dressed as her idol, and RadarOnline.com has video of the pint-sized performer.
Dubbed 'Mini Gaga,' Terra Jolé is a professional musical impersonator who dresses in costumes just as outrageous as the Bad Romance singer, just a few sizes smaller!
"When I saw Lady Gaga perform Paparazzi I was like, 'Lady Gaga, yes! We are doing Lady Gaga,'" the singer and actress told CNN.com.
Article continues below advertisement
"It's funny that Lady Gaga has little monsters, I should have mini monsters," said tiny Terra.
"Gaga is so exciting to me because she's like an animal," Jolé said. "As long as you are feeling powerful and emotionally driven for the night ... I would say that you are really taking the right steps to becoming 'mini-Gaga.'"
Rocking studded bra tops and beer can curlers in her hair, the little person from San Antonio, Texas, is the spitting image of the outrageous pop star but admits that some of Gaga's most outrageous costumes are harder to copy.
"Everyone remembers the nude latex outfit that she wore at the Grammys when she came out of the egg," Jolé said.
"I couldn't find sheets of latex, but I found these heavy shower curtains that I thought would work. Bad idea. It was the worst costume malfunction known to man," she joked.
"Lady Gaga is way more like my vocal, 'roar,' I love that!," said the husky-voiced singer, who also impersonates Britney Spears and started her copy-cat career as a member of KISS for a George Lopez skit.
Article continues below advertisement
After first hitting the spotlight on MTV's True Life: I'm a Little Person special, Jolé has appeared on CSI: Las Vegas and Jackass 3D, as well as touring with rappers T-Pain and Lil Wayne, but has found the most fame as an impersonator performing for sell-out shows.
"I don't find myself in 7-Eleven thinking, 'I am Mini Gaga,'" said businesswoman Terra, who has her own entertainment company, Mini-Popstars, with other small impersonators, including Mini-Beyonce, Mini-Michael Jackson and Mini-Vanilli.