Lady Gaga Shells Out $35,800 To Attend Obama Fundraiser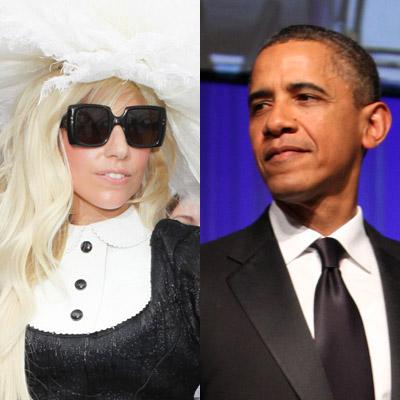 by RadarOnline.com Staff
Lady Gaga is apparently gaga over President Obama, and on Sunday, the Born This Way singer shelled out $35,800 to be one of the 75 people to attend a presidential fundraiser at the San Jose, California home of Facebook Chief Operating Officer Sheryl Sandberg.
Of course, the 25-year-old pop superstar made a grand entrance, as a White House press pool report states she entered the room to her song Poker Face on a pair of "sky-high heels."
Article continues below advertisement
The Edge of Glory singer was "wearing a floor-length sleeveless lacy black dress, her blonde hair was gathered in a bouffant up-do adorned with a black hair piece with a black veil down the back, which she swept to the side and in front of her left shoulder."
Gaga's hairdo "added about 6 inches to her stature," according to the report.
At the event, the president delivered an eight-minute speech, and did not reference the hitmaker in it.
Last week, she tweeted she was "meeting with our President" to discuss making anti-bullying laws after Jamey Rodemeyer, an openly bisexual 14-year-old from Buffalo, New York, killed himself after being repeatedly taunted by peers over his sexuality. In May, the teen had posted a Youtube video titled "It Gets Better," in which he praised the singer for helping teach tolerance through her art.
"She lets me know that I was born this way," Rodemeyer said.