Lady Gaga Performs Heartbreaking Tribute To Bullied Gay Teen Jamey Rodemeyer Who Committed Suicide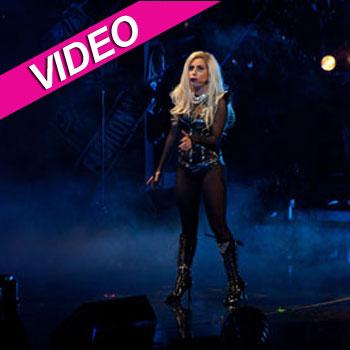 Lady Gaga brought down the house Saturday night with one of her most emotional performances ever. As one of the superstars appearing at the iHeartRadio Music Festival in Las Vegas, Gaga dedicated her song Hair to Jamey Rodemeyer.
The 14-year-old Rodemeyer, of Buffalo, NY, committed suicide last Saturday after a year of online bullying which he'd spoken about in several YouTube videos.
The teen was also a huge Lady Gaga fan, and in one of his postings earlier this year said, "Lady Gaga, she makes me so happy, and she lets me know that I was born this way."
Article continues below advertisement
He was found dead outside his house. Police confirmed that his death was self-inflicted but would not reveal how the teen took his life.
Last night Gaga told her audience she was dedicating her performance to Jamey, and that "bullying is for losers."
The Amherst Police Department's Special Victims Unit is now investigating whether charges can be brought against three unnamed teens who were known to have been bullying Rodemeyer. At issue is the lack of bullying laws in New York.
"The special victims unit is looking into the circumstances prior to his death," Captain Michael Camilleri said. "We are not sure if there is anything criminal or not."