Without Doubt, THE Most Bizarre Britney Spears Tribute Video EVER!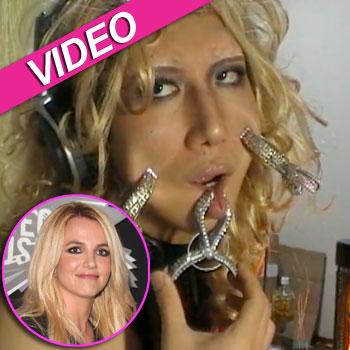 We never thought we would say it, but somebody has come out with a Britney Spears tribute that tops even Chris Crocker's now infamous on-screen Brit Brit breakdown.
Sarraceniaalata has posted a near-indescribable video on YouTube, where he mimes along to Brit's hit, Circus, while channeling a more than healthy dose of Lady Gaga.
Starting off with pinning large diamante encrusted bull clips all over his face, Sarraceniaalata, dressed in his best long blonde curly Britney wig and DJ-style headphones, surrounded by papier maché covered Britney balloon heads, launches into a decidedly weird and wacky performance that is rapidly going viral.
Article continues below advertisement
RadarOnline.com would like to warn those that dare to watch that although there isn't full nudity per se, there are some parts that are..... well.... kind of nearly naked, and the overall effect could be deemed NSFW.
Happy Friday!
Watch the crazy video on RadarOnline.com below: