Exclusive
Britney Spears Has Got The Look Of Love -- Wedding Bells In The Near Future?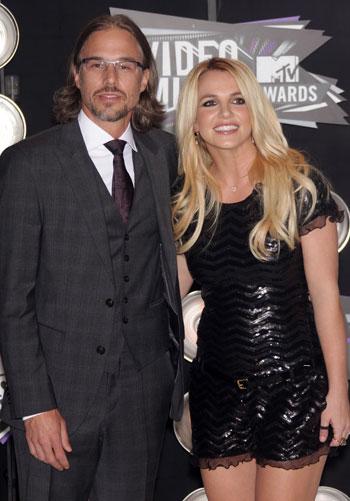 Britney Spears, who has been attached at the hip with her music manager beau Jason Trawick for months now, appears to be closer to settling down than ever – and dropping the L bomb at the MTV Video Music Awards on Sunday night was only the icing on the cake!
"And Jason, I love you," gushed the chart topping singer on the stage of the annual awards show on Sunday night as she was accepting her Moon Man for Best Pop Music Video.
Article continues below advertisement
The singer, who wore a sequined Moschino romper and open-toed Gina booties to the show, clutched onto Jason's hand the entire night, from her walk down the red carpet to her front row seats at the show – and she was beaming from ear-to-ear the entire night!
Later, backstage, RadarOnline.com exclusively reported that Britney took some time to congratulate Beyonce on her baby news, even rubbing her belly!
Since announcing that he was leaving William Morris Endeavor and would no longer be Britney's agent back in May 2011, Trawick has barely left Britney's side.
"Jason is totally smitten with Britney," pals of Trawick confirm. "His world revolves around her."
Trawick has been accompanying his girlfriend on her North American tour, as well as on family vacations with her kids, Sean Preston and Jayden James.
Article continues below advertisement
Sunday night after the show, the duo headed over to the House of Hype afterparty to celebrate Britney's win.
"They were super flirty," a source tells RadarOnline.com about Britney and Jason, who entered the party through a secret entrance and sat at a private table during the event.
"Jason never left Britney's side. They seemed totally happy and content and looked adorable and extremely happy."
In a recent interview with Harper's Bazaar magazine, Britney admitted that wedding bells in the near future were not out of the question. "Never say never," she coyly stated. "I've thought about both. So if the timing was right."