2011 VMA: It's Ladies Night At MTV Video Music Awards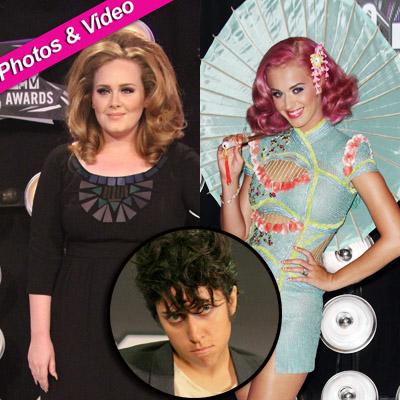 By Adam S. Levy - RadarOnline.com Staff Writer
It was ladies night at Sunday's MTV Video Music Awards with the women taking home most of the big prizes.
Katy Perry and Adele took home three awards apiece at the ceremony, which also saw Lady Gaga perform in drag, Britney Spears honored for her career achievements and Beyonce letting the world know she's about to hear the pitter-patter of little feet.
Perry, up for ten awards, took home three: best collaboration and special effects for E.T.; and video of the year for Firework.
Article continues below advertisement
"I feel like I'm doing something right when I sing that song," the California beauty said of her impassioned pop ballad.
British crooner Adele -- whose performance of Someone Like You was widely hailed by critics and on Twitter as the best of the evening -- took home the honors for cinematography, editing, art direction for her Rolling in the Deep video.
Lady Gaga embraced her androgynous side, dressing as a man to kick off the show with a performance of You and I. The New York-born superstar also took home two awards on the night for her Born This Way video, getting best female video and video with a message.
Watch the video on RadarOnline.com
And Britney Spears showed she's still got some gas in the tank, receiving the prize for best pop video for her apocalyptic dance ditty Till the World Ends.
Gaga presented Spears with the MTV Video Vanguard award, honoring veteran stars for their career achievements.
"She's a pop music legend, and the industry would not be the same without her," Gaga, still in drag, told the crowd. "I used to hang pictures of her on my wall and touch myself when I was in bed."
Article continues below advertisement
2011 VMA: Read The Complete List Of Winners
Britney cut Gaga off at the pass on an attempted smooch, telling her, "I've done that before," in reference to when she famously kissed Madonna at the ceremony in 2003.
Other winners of note: expectant mommy Beyonce captured the choreography prize for Run the World (Girls); teen sensation Justin Bieber snared the best male video award with U Smile; and Nicki Minaj's Super Bass video earned the sexy singer the prize for best hip-hop video of the year.