Beyonce & Jay-Z Expecting First Baby! Rubs Belly After Performance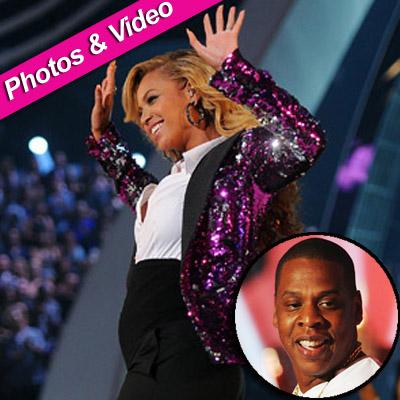 Yes, destiny's child is on the way, and we've got all the details for you.
Beyonce Knowles stole the show at Sunday's MTV Video Music Awards at the Nokia Theatre in Los Angeles, letting the world know she and hubby Jay-Z are expecting their first child, as she displayed her baby bump on the black carpet and the stage.
During pre-show arrivals, the Baby Boy singer's impending motherhood was obvious in her loose-fitting red gown, causing an overload of Twitter traffic as fans rejoiced that hip-hop's golden child was on the way.
Article continues below advertisement
Prior to performing Love on Top, the Houston-born beauty, clad in a loose-fitting tux-themed Dolce & Gabbana ensemble, told the crowd, "I want you to feel the love that's growing inside of me!"
When she finished the song, Beyonce flung the microphone to the floor and then unbuttoned her jacket and rubbed her baby bump. The camera then cut to the audience, where hubby Jay-Z was beaming ear-to-ear as pal Kanye West congratulated him. Lady Gaga -- dressed as her male alter-ego -- gave several fist pumps.
Backstage, the Crazy In Love singer was greeted with well wishes from Kanye West and former Destiny's Child bandmates Kelly Rowland and Michelle Williams.
The buzz remained at a fever pitch early Monday, with the phrase "BEYONCE IS PREGNANT" coming in as the top trending Twitter topic in America.
The 29-year-old Dreamgirls star, who turns 30 on September 4, told Piers Morgan in June she "always said she would have a baby at 30."