Exclusive
Britney Spears & Amy Winehouse Both To Be Honored At The VMAs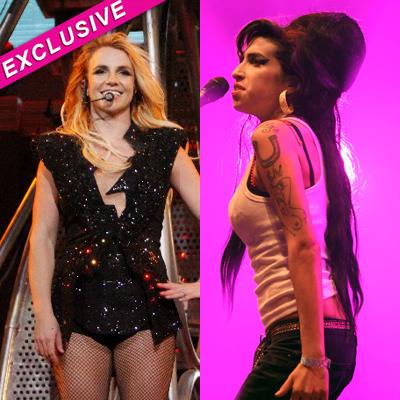 She's only 29-years-old, but Britney Spears is already recognized by her peers with a special tribute award this weekend.
Britney will be honored, by Madonna no less, at this Sunday's MTV VMAs in a star-studded performance, and RadarOnline.com has all the exclusive details.
Some of the music industry's top performers including Lady Gaga, Ke$ha, Katy Perry, Demi Lovato, Nicki Minaj and Janet Jackson are going to combine their talents on stage in a special musical tribute to the pop princess during the awards show this Sunday.
Article continues below advertisement
Along with her famous fans honoring her, the woman of the moment will also take the stage. "Britney Spears will also be performing her hits Hold It Against Me and I Wanna Go," a source told RadarOnline.com.
In fact, the tribute -- which is usually reserved for performers who are much older than Spears -- is thought to be a lure to make sure that the unreliable I'm a Slave 4 U singer actually turns up for the show.
"Britney's young to receive an award like this, but the producers know that it will force Britney to come to the show," revealed the insider. "That will help boost ratings."
Another moving tribute will take place at the VMAs, but sadly the honoree will not be there to enjoy the performance.
Famed singer Tony Bennett is going to take the stage in memory of the late Amy Winehouse where he will introduce never-before-seen footage from their March recording session at London's legendary Abbey Road Studios.
Article continues below advertisement
The session was Winehouse's last, as the duo recorded Body and Soul for Bennett's upcoming Duets II album, out September 20.
"It was a thrill to record with Amy Winehouse and when you listen to the recording of Body and Soul, it is a testament to her artistic genius and her brilliance as one of the most honest musicians I have ever known," the Grammy Award Winning singer said in a statement.
RELATED STORIES: