Police Open Criminal Investigation Into Suicide Of Bullied Gay Boy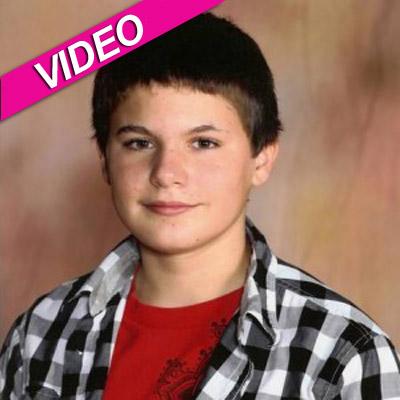 by Radar Staff
Police have opened a criminal investigation into the suicide of 14-year-old Jamey Rodemeyer, an openly gay student in Buffalo, New York who killed himself after a year of being bullied both online and at school.
The Amherst Police Department's Special Victims Unit says it will determine whether to charge some students with harassment, cyber-harassment or hate crimes. Police said three students in particular might have been involved.
Article continues below advertisement
Although Jamey had just started his freshman year at Williamsville North High School, the bullying began while he was a student at Heim Middle School. (Both Amherst and Williamsville are just outside Buffalo.)
"The special victims unit is looking into the circumstances prior to his death," Captain Michael Camilleri said. "We are not sure if there is anything criminal or not."
Camilleri said that there are no bullying laws in New York State, so police will need to determine whether aggravated harassment charges are appropriate in Jamey's death. Whether suspects would be tried in juvenile court would depend on whether the alleged bully was 16 or older, he added.
Police said they had spoken with Williamsville School Superintendent Scott G. Martzloff, who has pledged the district's cooperation.
"We've heard that there were some specific students, an identifiable group of students, that had specifically targeted Jamey, or had been picking on him for a period of time," Police Chief John C. Askey told the Buffalo News.
As RadarOnline.com previously reported, Jamey killed himself last week. Neither police or his family have released any specific details surrounding his death.
Article continues below advertisement
Only months before he killed himself, Jamey -- who identified himself as being bisexual -- posted a video on line entitled "It Gets Better" in which he talked about the anti-gay taunts he was repeatedly subjected to.
"People would just keep sending me hate, telling me that gay people go to hell," Jamey said in the video posted on May 4.
"It was a constant taunting ... the same people over and over."
In the video, Rodemeyer recalled how he was the target of homophobic barbs from classmates and users of the online Q&A forum Formspring. (A look at that account revealed one user wrote, "JAMIE IS STUPID, GAY, FAT ANND UGLY. HE MUST DIE!;" another said, "I wouldn't care if you died. No one would. So just do it :) It would make everyone WAY more happier!")
Toward the end of the video, Rodemeyer praised Lady Gaga as a role model whose message made him "so happy."
Article continues below advertisement
"She lets me know that I was born this way," Rodemeyer said.
At the end of the clip, the boy implored viewers to "just love yourself and you're set. And I promise you, it'll get better."
Unfortunately, Rodemeyer continued to receive the brunt of abuse from cruel classmates, as a September 8 posting on onto his Tumblr account foreshadowed his tragic fate.
"No one in my school cares about preventing suicide, while you're the ones calling me gay slur and tearing me down," Rodemeyer wrote, following up with a September 9 post that read, "I always say how bullied I am, but no one listens. ... What do I have to do so people will listen to me?"
In wake of his death, Lady Gaga vented on the situation via twitter: "Bullying must become illegal. It is a hate crime," she tweeted.
"I am meeting with our President. I will not stop fighting. This must end. Our generation has the power to end it. Trend it #MakeALawForJamey," the singer posted to twitter Wednesday night.
His death coincides with a national summit this week sponsored by the U.S. Department of Education in Washington, D.C., an effort to stop the bullying of school children.
On a side note: October is LGBT History Month.