Lady Gaga & Other Celebs Cheer Repeal Of Don't Ask, Don't Tell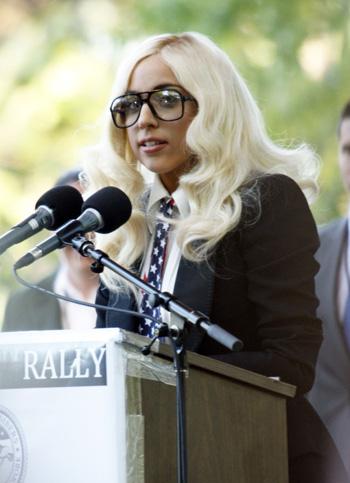 The Senate's historic vote to repeal the military's "don't ask, don't tell" policy has led to an outpouring of Twitter support from celebs, with Lady Gaga leading the cheers.
"Can't hold back the tears + pride," Lady G Tweeted. "We did it!! Our voice was heard + today the Senate REPEALED DADT. A triumph for equality after 17 YEARS."
The singer has been has been among the most vocal critics of DADT. She frequently railed against it during concerts and even released a video demanding the repeal.
Article continues below advertisement
Kathy Griffin wrote, "FINALLY! Equality IS coming."
Ellen DeGeneres Tweeted, "Thank you Senators for pushing us one step closer towards full equality."
And Ricky Martin added his voice, Tweeting " DADT is gone! Historical!"
The Senate voted 65-31 Saturday to repeal the controversial policy that blocked gay men and women in the military from being open about their sexual orientation.
The bill will become official after it his signed by President Barack Obama, possibly as early as Monday.
In a statement after the Senate vote, the President said, "When this bill reaches my desk, I will sign it, and this discriminatory law will be repealed."
RELATED STORIES:
VIDEO: Lady Gaga Calls For Ask To Don't Ask, Don't Tell
Ellen DeGeneres' Actress Wife Portia De Rossi Changes Name To DeGeneres
VIDEO: Jane Lynch Says Ellen Inspired Her To Come Out
Amber Heard Comes Out As Gay