'Just A Normal Kid': Eden Wood Enjoys Fun Day At The Zoo… With Her Publicist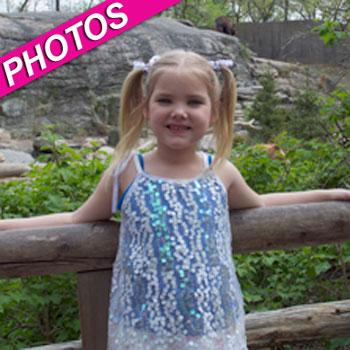 Eden Wood is more used to the glitz and glam of pageantry, but she took time out of her busy promotional schedule recently to just be a regular little girl.
But, normal for the former Toddlers & Tiaras star means hitting up the Bronx Zoo with her publicist Andrew Sullivan, who appears with her in her new reality show Eden's World.
Eden had a blast hanging out with all the rhinos, monkeys and tigers and looked adorable in pigtails and a blue and white outfit in exclusive pictures seen here on RadarOnline.com.
Article continues below advertisement
"It is so much fun to be able to hang out with Eden and not be working," Sullivan said of his energetic client.
"She really is just a normal kid that wants to be fabulous and fancy half the time, and run around in the mud the other half. She has a really balanced life and I have to say that is all because of her mother.
"If Eden can keep this balance up and always be a humble girl, God only knows how successful she is going to be."
Eden's World, which premiered Monday on Logo, is about the seven-year-old's quest to be a pop singer and her exploits travelling around the world to help other kids become pageant queens.
She was guest of honor at a premier party to celebrate the launch of her new show this week where Mob Wives' Renee Graziano, Drita D'Avanzo and Angela "Big Ang" Raiola put in an appearance. Celebrity DJ, DJ Twist spun the tunes and it was all styled by June's Rachel Heller.