Eden Wood Continues Her Media Blitz, Doles Out The Sass To Wendy Williams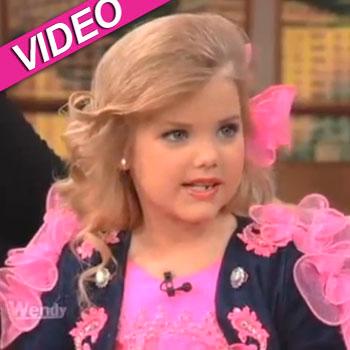 Former pageant queen turned wannabe singer Eden Wood turned out in all of her glory for an appearance on the Wendy Williams show Monday, and RadarOnline.com has video.
The seven-year-old starlet was in a full face of make-up and a head full of hair extensions to promote her new reality show Eden's World but called the talk show host out on her own fake hair.
"Do I recognize extensions in your hair?" Wendy dared to ask the audacious youngster.
Article continues below advertisement
"What about your hair?" Eden cheekily quipped to laughter from the audience before Wendy admitted, "It's a full wig."
"Oh yeah baby," Eden said on her desire to be a pop star and when Wendy started to do her rendition of Eden's song Cutie Patootie, the bubbly blonde snapped back, "Oh please don't sing it."
Eden said that her new reality show is about "helping other kids get to the top of pageantry. So I'm going to Kentucky, Japan, all over. And it's really fun for me because I love helping other kids."