Former Miss America Vanessa Williams Slams Toddlers & Tiaras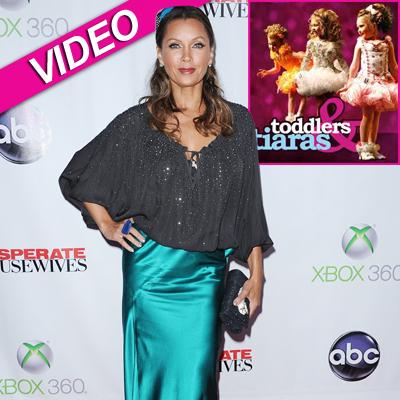 Desperate Housewives star Vanessa Williams -- who began her life in the spotlight on the stages of beauty pageants -- says she would never let her children compete in a Toddlers & Tiaras style contest.
The former Miss America expressed her disgust in the TLC show in an interview with Anderson Cooper when she appeared on upcoming episode of his talk show, Anderson.
When asked if she thought the spray-tanned, glammed-up children on the show were pushed into the stressful industry too soon, Williams replied: "I think they don't know what they are doing.
Article continues below advertisement
"When the child is screaming and saying, 'I don't want to do this. I don't feel like doing it.' When they are using special juice to get them hyped," she added in disgust.
Anderson then confessed that he had tried the highly caffeinated cocktail that some parents use to amp up their children.
"Go Go Juice. I actually have tasted Go Go Juice. It's Mountain Dew & 7Up," he admitted.
"Yeah, that's not my world and I would never have my kids do that," said 49-year-old Williams, who has four children from two past marriages.
As for Vanessa's own pageant career, Williams was named the first African America Miss America in 1984, but had her crown taken away when nude photos of her taken before the competition surfaced in Playboy magazine.
"I had never done it before. I was at Syracuse (University) my sophomore year performing a lot of stuff, they locally scout the talent," Williams told Anderson when asked how she broke into the beauty queen circuit.
Article continues below advertisement
"I said, 'Well, should I go out for this?' My mom said go for it you could use the scholarship money because I had gotten scholarships every year," she explained. "I ended up wining it in April. I remember my friends when I won -- they said, 'They had no idea who they just crowned.'
"I became Miss America and people didn't even know about me smoking pot, having a boyfriend, having an abortion. I had lived life before I became famous."
Williams recently spilled all the secrets of her colorful past in her tell-all memoir, You Have No Idea.
The full interview will air on Anderson on Thursday, May 3. Visit AndersonCooper.com to find out when and where the syndicated talk show airs in your city.