Honey Boo Boo Child: 'Some People Look Ugly'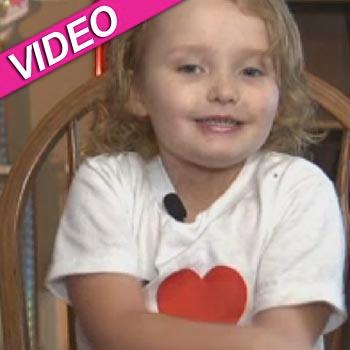 By Amber Goodhand - Radar Reporter
Alana "Honey Boo Boo Child" Thompson is only six-years-old but the Toddlers & Tiaras star is already a little boy crazy and in a new video interview you can see on RadarOnline.com, she says she likes tall boys at Walmart!
Alana and her mother June sat down with CBSAtlanta.com at their home in McIntyre, Georgia, and the quick-witted tot had plenty to say about how much she hates getting coached for pageants, and how she's dealing with all her new found fame.
Article continues below advertisement
"I've been on TV so much," Alana said. "But I hate going to coaching."
Easily distracted, Alana switches mid-topic to tell her mom, "Smell my stinky feet!"
June, who caused quite a bit of controversy by giving her daughter a special caffeine-filled concoction before Alana takes the catwalk, talked about how much money they invest in Alana's pageants.
"On any given weekend you can spend anywhere from 300 to 400 dollars because you have to get your hair done…spray tans…entry fees…and then you gotta rent a hotel," June said.
Alana said she doesn't like the recognition she gets from being on the hit TLC show saying: "No, not happy because some people look…what's the word…some people look ugly."
But the perk Alana does enjoy is the flights she gets to go on and taking pictures with "some people that look cute."
Especially boys at Walmart.
"Because we went to Walmart one time and there was this really tall boy and this short boy and the tall boy looked hot," Alana said.