You Look Just like Momma! Toddlers & Tiaras Stars Get Matching Pageant Outfits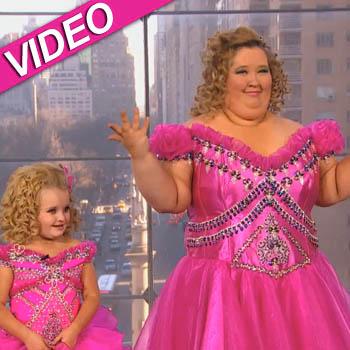 By Debbie Emery - Radar Reporter
The over-achieving pageant moms on TLC's Toddlers & Tiaras are experts at dressing their little girls up in the most outrageous outfits possible, and now the primping parents have been given a dose of their own medicine, and RadarOnline.com has photos of the garish results. 
Anderson Cooper invited four of the popular mother-daughter duos on to Friday's episode of his talk show so that the parents could feel how it felt to walk in the very high heels of their pint-sized divas.
Article continues below advertisement
As usual, it was Alana 'Honey Boo Boo Child' Thompson and her mom, June, who stole the show! Dressed in identical fuchsia satin dresses, bedazzled with sparkling plastic jewels and trimmed with pink ruffles, the pair pranced around the stage basking in the attention.
With her hair coiffed and curled, June pursed her painted lips for the cameras, while six year-old Alana did her signature 'making eyes at the judges' sign with her hand.
Laci Crews and mom Alicia Morgan wore equally as outrageous outfits as they both squeezed into Lady Gaga style electric blue leotards with long silver grey wigs.
After causing a controversy when she dressed as Julia Roberts' hooker character in Pretty Woman, Paisley and mom Wendy Dickey pushed the envelope even further with what looked like S&M style leather dresses with matching thigh-high black boots.
Article continues below advertisement
The most downplayed duo in the group was EverRose and Kayla Sims, who wore matching pink and purple dresses with lots and lots of sparkles.
Anderson was understandably blown away by the spectacle taking place on his stage, but managed to keep his composure when he sat down with his guests to chat about their makeovers.
"We have had a blast. This is something we'll laugh about for years to come. This is fun, this is all about having fun," said June, while daughter Alana thought it was, "pretty cool."
Copper went on to ask the outrageous pair about the infamous Go Go Juice that makes Honey Boo Boo Child "holler for a dollar" when she hits the stage for a competition.
"June, did you drink any Go Go Juice before you came out here?" he said.
"No, because you drunk it all and your audience members drunk it all!" she quipped back.
When quizzed if getting dressed up like a pageant princess made her regret anything she's done to her daughter, June said, "I don't rethink any decision that I've made for my daughter as far as pageants.
Article continues below advertisement
"This was all in fun for us today, yeah, the corset is a little tight. With her, she enjoys doing it, so we are going to continue doing it."
June went on to justify her actions at the highly competitive pageants. "It is a sport. To us women who do it everyday it is a sport.
"Alana, she loves doing it, she's not into the basketball or the baseball or anything like that. I don't give her Go Go Juice everyday of the week. Sometimes I don't give it to her at pageants at all, we may use another remedy that day which may be pixie sticks or candy or just a regular caffeinated drink."
Anderson later got his very own taste of pageant life when he tried the highly caffeinated Go Go Juice.
"Wow, it's a lot of sugar. It's Red Bull and Mountain Dew!" said Cooper while getting buzzed.
VIDEO: Favorite TV Moms Share Their Favorite Mom Moments
Tune in for the full episode of Anderson on Friday, February 17.
In the meantime, get your pageant fix below:
radar_embed service=5min.com src=" http://pshared.5min.com/Scripts/PlayerSeed.js?sid=1126&width=486&height=412&playList=517713523&sequential=1&shuffle=0"