'Role Model' Teen Mom Stars: 'We're Trying To Get Rid Of Teen Pregnancy'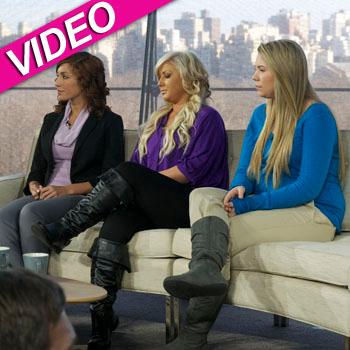 By Debbie Emery - Radar Reporter
The young stars of Teen Mom have been accused of everything from glamorizing pregnancy to being a bad influence on school kids, now three of the stars of the controversial MTV show are defending their behavior to Anderson Cooper and RadarOnline.com has a preview of their explosive interview.
Farrah Abraham, Chelsea Houska and Kailyn Lowry will all be on Monday's episode of Anderson, where they fight back against his accusation that many people believe that the reality show sends a message to young girls that you can become famous by getting pregnant.
Article continues below advertisement
"But we don't choose to be on the cover of magazines," claims Kailyn, and her costars agree.
"Usually they don't say good things about us, and it hurts me and its really hard. For me to change, I live a normal life and stuff and when I'm on a magazine and it says something mean I don't like it," explains Chelsea.
Farrah, the most famous young mom in the trio, argued that they are actually preventing girls from getting in the same predicament as them.
"I feel like we're here to be doing a social effort to help get rid of teen pregnancy, and yes we are trying to be role models by showing the reality of our hardships. By no means is waking up at 2 a.m. to check a diaper, or our child's peed in the bed or we have to feed them glamorous.
"I don't think that's glamorous," Farrah says adamantly.
However, the hard-hitting CNN anchor isn't going to let the girls excuse themselves that easily.
Article continues below advertisement
"You know other teenagers are going to see you on the cover of a magazine and they may not realize you didn't pose in that picture to be on the cover, some magazine put you on the cover, even though they are saying things which aren't nice about you," says Cooper.
"You're famous, and this day and age a lot of kids just want to be famous."
VIDEO: 'Teen Mom' PSA: We Should've Cuddled Instead!
Kailyn is the first to respond candidly: "I can only speak for myself but I don't feel famous. When the cameras stop rolling I'm still Kailyn, like I'm still the girl that has to take care of my son, go to school, work and do all of these things. I think it's hard for other girls to understand that."
Farrah disagrees with Cooper equally as vehemently: "I didn't get pregnant to be famous, that's all I have to say," she says.
Later in the interview the reality stars attempt to put to rest many of the rumors circulating about the MTV hit show.
"There was a report that you had moved from Iowa to Florida and you had left your daughter with your mom, and there was a lot criticism about that. What was that about?" Cooper asks Farrah.
Article continues below advertisement
FIRST PHOTO: Teen Mom Jenelle Evans In Rehab
"I moved and I'm making wise choices for myself and my daughter, and if it means to have Sophia stay with my parents at a certain time, then that's what it takes," she replies, adding: "I hope they (the viewers) can live and learn with us, because we live and we learn."
Anderson then talks about the issue on many people's minds – money.
"I think a lot of young people also seeing you on a TV show assume that all of a sudden you guys are rich now but these reality shows do not pay a lot of money," he says. "You're not able to store away money that you can live on for the rest of your life by being on this TV show?"
"Not at all," replies Chelsea.
"And even if we were getting paid tons of money I mean we have bills to pay," adds Kailyn, while the others explain that their hard-earned wages go to education for them and their children, clothes, rent and cars.
The full episode of Anderson airs on Monday.
Watch a preview in the meantime below:
radar_embed service=5min.com src=" http://pshared.5min.com/Scripts/PlayerSeed.js?sid=1126&width=486&height=412&playList=517713506&sequential=1&shuffle=0"