Teen Mom In Chains! Amber Portwood Sports Striped Jumpsuit, Shackles at Court Hearing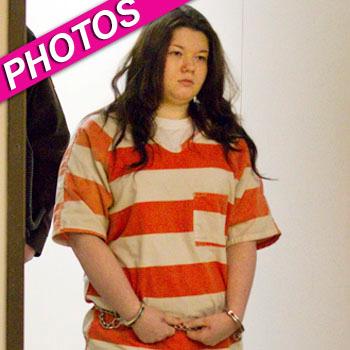 Teen Mom Amber Portwood looked fit for a chain gang at a hearing in her native Indiana Monday, and we've got the pics for you here on RadarOnline.com.
Portwood finalized her plea deal Monday, which mandates she must finish the Madison County Drug Court program. After she's evaluated by the Drug Court team, she'll be transferred to the rehab facility; the process should be completed within two weeks.
Article continues below advertisement
The reality star has been behind bars since December in connection with felony drug possession. Last month, she cut a deal to avoid spending five years behind bars by pleading not guilty to one count of a possession of a controlled substance and one count of probation violation.
The legal wranglings stem from the domestic violence case in which she famously punched her baby daddy Gary Shirley as cameras for Teen Mom rolled. Her troubles snowballed when she missed a probation hearing in December and police found pills (she was not prescribed) during a subsequent check, leading to her arrest.