Exclusive
'Teen Mom' Amber Portwood In Vicious Girl Fight: Caught On Video!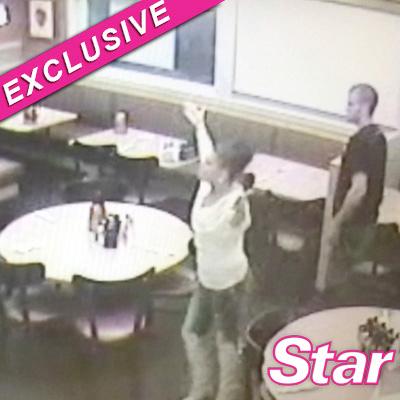 By Amber Goodhand - Radar Reporter
Troubled Teen Mom star Amber Portwood started a fight with a complete stranger in an Indiana restaurant and it was caught on camera, Star magazine is exclusively reporting via RadarOnline.com.
In the still images from the video, obtained by Radar, the 21-year-old mother is seen scrapping with an unsuspecting patron at an Andersonville IHOP on November 18.
"She was drunk, and there was another girl in the restaurant who had been drinking too and apparently said something about Amber to her friend," a source told Star.
Article continues below advertisement
"Amber instigated the fight. She told the girl, 'You don't know anything about me! I'm gonna whup your ass!' They just attacked each other."
In the video footage, Amber can be seen in a white t-shirt, flailing her arms wildly at the other woman before charging her.
"There were a couple punches thrown and hair pulling, then they were separated," the witness said.
This is Amber's second time being caught on video attacking someone - the first was in a 2010 episode of the hit MTV show when she was shown hitting and slapping her ex and baby daddy, Gary Shirley.
The MTV incident eventually led to Amber being charged with domestic battery, and in 2011 she pled guilty and avoided jail time by striking a deal involving 30 days of inpatient treatment with outpatient follow-up, getting her high school diploma and starting a college fund for her daughter, Leah.
Amber also did a stint in a Malibu rehab center to deal with her anger management issues and depression, after she was hospitalized in June for a suicide attempt.