Exclusive
EXCLUSIVE: Teen Mom Amber Portwood Sobbed When Cops Charged Her With Domestic Violence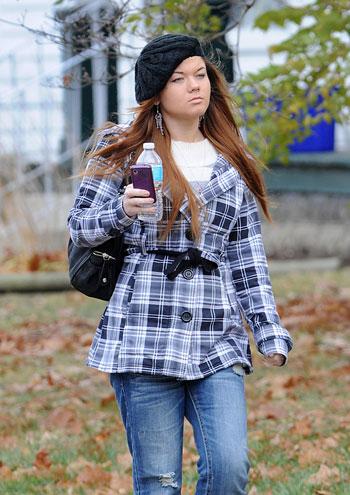 Teen Mom star Amber Portwood sobbed uncontrollably after police announced domestic violence charges against her, RadarOnline.com learned.
She has been photographed partying and videotaped in a violent rage against her ex-fiance, but privately the reality of facing criminal charges brought Amber to the edge as she faced the sobering truth.
And Amber had an unlikely shoulder to cry on - the mother of Gary Shirley, the boyfriend she was seen hitting and kicking on their controversial MTV show.
Article continues below advertisement
"Gary's mom called to talk to him and he was crying. She came home from work to make sure Amber was okay and Amber flung herself into her arms," a source close to both families told RadarOnline.com exclusively. "Gary's mom just held her. Amber was crying and kept saying she was sorry."
Amber sobbed uncontrollably because last Thursday the Anderson, Indiana police department announced it was filing two felony and one misdemeanor domestic violence charges against Amber stemming from televised incidents where she hit her baby daddy and one-time fiance Gary. She could face up to three years in jail and fines of up to $10,000 if convicted. The District Attorney's office has not yet announced if it is going to enforce those charges or modify them.
Even though Gary was on the receiving end of Amber's televised blow, he also took the news very hard.
"He was very emotional because he doesn't want Amber to be in trouble," the source said. "Regardless of outward appearances, he still loves her. He's masking it right now. He's masking being hurt and all the stuff that happens in relationships.
"Amber's hanging in there. Gary's family is trying to be her support system and telling her they're going to be there for her. Gary's mom keeps looking past the stuff that happened and tries to love her. That's the only thing they can do right now. She won't let Amber go through this alone."
Article continues below advertisement
Even though the young couple seems to be moving away from each other, some wondered if the legal ordeal would bring them closer. Not the case, says the source.
"At least at this point it's not bringing them closer together," said the source, "because there are so many issues. It's going to take some time for them to sort it all out.
"Gary doesn't want her to go to jail. He's hurting because she's hurting and he still loves her. She's Leah's mother and he needs to be there for Leah just as much as Amber needs to be there for her."