Exclusive
EXCLUSIVE PHOTOS: 'Teen Mom' Amber Portwood Parties Hard Before Police Charges Filed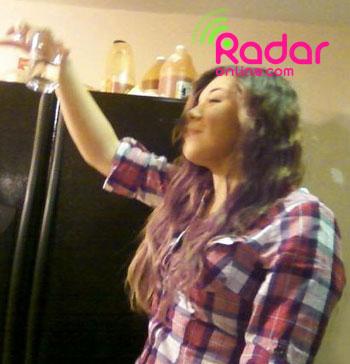 Acting more like a teen than a mom, MTV star Amber Portwood partied hard just shortly before police filed domestic violence charges against her and RadarOnline.com has the exclusive photos.
Amber hoisted shots of tequila at a house party right before Halloween in Anderson, Indiana. As you can see in our exclusive photos from that night, the Teen Mom star looks blissfully happy as she hugs and poses with one man and then laughs with another.
Article continues below advertisement
Her happiness was short lived. On Thursday, Portwood, 20, was charged with two felonies and a misdemeanor of domestic battery by Anderson, Indiana police. Police have submitted an affidavit to the local prosecutor who will then determine if those charges will stand, be dismissed or modified. Portwood has not yet been arrested.
Amber was caught on camera hitting Gary Shirley the father of their daughter Leah. Police noted that on August 14 Portwood "shoved Shirley against a wall, slapped him on the face and choked him. The incident was witnessed by the couple's one-year-old child who sat in a child seat on a nearby bed." Police also say that on June 14 Amber was videotaped slapping Shirley five times, punching him three times and kicking him at least once. On Juuly 18 she was videotaped slapping Shirley in the face, and punching him several more times.
Official Document: Read The Police Report
It all adds up to big trouble for Portwood, who has given her daughter to Shirley for now.
At the party where RadarOnline.com's exclusive photos were snapped, she reportedly got wilder as she boozed and made out with Jesse Austin. And as you can see in the candid photos, inhibitions were dropped as tequila flowed.
But her hookup with Austin didn't last long. Amber has now moved on to Clinton Yunkers, who she has been friends with for years.
Article continues below advertisement
Before Amber was charged by police on Thursday, Yunkers' mother Judith Reagan told RadarOnline.com in an exclusive interview: "I point blank asked her about the show and what was true about her... she said some things that have been said are true and some aren't but she was nice about me inquiring. I needed to ask because she will be around my granddaughter and she is my very first priority."
Yunkers has a one and a half year old daughter.