Toddlers & Tiaras Star Honey Boo Boo Gets Her Own Show!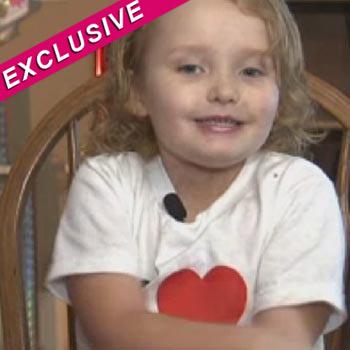 Can't get enough of Toddlers & Tiaras star Honey Boo Boo?
The over the top Go-Go Juice drinking pageant diva is getting her own reality show!
Alana Thompson, 6, has inked a deal with TLC, the network that made child beauty pageants famous, and the new show is going to focus on the little girl and her family in their rural Georgia home.
Just like an MTV show, Honey Boo Boo has a pregnant older sister who is going to be a teen mom, Anna "Chickadee" who is 17 and will be on the show, too.
Article continues below advertisement
Also featured will be her mom June Shannon, her chalk-mining dad Mike "Sugar Bear" Thompson, and her other sisters 12-year-old Lauryn "Pumpkin," and 15-year-old Jessica "Chubbs."
According to a statement from TLC, it was "her amusing personality and self-confidence" that won over viewers "and her self-proclaimed nickname became a fixture in pop culture."
The show is titled Here Comes Honey Boo Boo and is slated to premiere in August with six half-hour episodes.
MORE ON:
Here Comes Honey Boo Boo