Move Over Eden Wood! British 'Human Barbie' Mom & Daughter Heading To U.S Pageants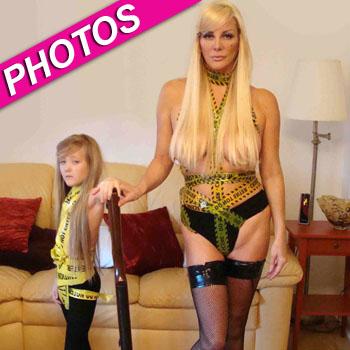 Watch out Eden Wood – there is a British toddler coming to the United States to steal your tiara!
Plastic surgery crazed mother Sarah Burge, who has been nicknamed "The Human Barbie" and gave her 7-year-old thousands of dollars in vouchers for future plastic surgery, is bringing her little girl to the United States to compete in beauty pageants – and RadarOnline.com has the latest scandalous images of the mother and daughter duo as well as all the details about their pageant plans!
Article continues below advertisement
In the shocking images, the 51-year-old cosmetically altered mother and her little girl Poppy are scantily clad in a variety of scandalous ensembles.
In the most unbelievable image, the duo is naked from the waist up, wearing only yellow crime scene tape wrapped around their torsos. Sarah wears fishnet garter thigh-highs with her tape, while her daughter pairs hers with black leggings.
Sarah has revealed that Poppy is preparing to storm the USA pageant scene, and that she has already spent thousands of dollars on training, travel, hair and makeup to get her daughter ready to beat Toddlers & Tiaras at their own game.
MORE ON:
Toddlers and Tiaras