Honey Boo Boo Gets Ready To 'Sparkle & Shine'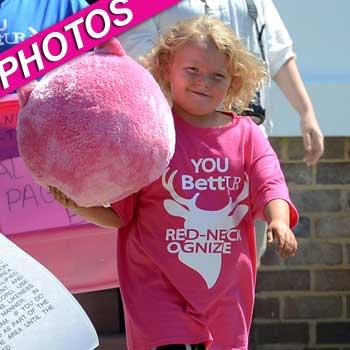 Here comes Honey Boo Boo!
6-year-old pageant sensation Alana Thompson attends the Miss Sparkle & Shine Pageant in Cochron, Georgia on Saturday while filming scenes for her hit TLC show, Here Comes Honey Boo Boo, and RadarOnline.com has the pics.
The irascible Alana -- dressed in her trademark pink and carrying her favorite stuffed pig (Sorry Glitzy!) -- was there with her mom June Shannon, as well as with dad 'Sugar Bear' Mike.
Article continues below advertisement
Here Comes Honey Boo Boo airs Wednesdays at 10/9 C on TLC, and since its debut in August, the show is pulling in more than two million viewers weekly. Toddlers & Tiaras, which airs before Boo Boo, gets 1.2 million viewers.
The family, who calls themselves "crazy rednecks," lives in McIntyre, Ga., population 700.
RELATED STORIES:
Terrors And Tiaras! Honey Boo Boo Child Gets Amped Up & Goes Go Go Juice Crazy