Exclusive
Kris Jenner Furious She's In Middle Of TODAY 9/11 Moment Of Silence Fiasco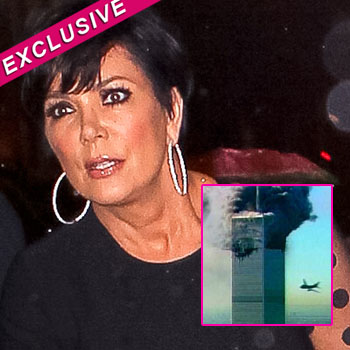 Kris Jenner is furious that she is unwittingly stuck bang smack in the middle of the TODAY 9/11 fiasco, RadarOnline.com is exclusively reporting.
As previously reported, the embattled morning show skipped holding a moment of silence on 9/11, choosing instead to run an interview with the Kardashian matriarch where she talked about her breast implants and reality show.
As backlash grows against NBC and the show, Jenner's face has been splashed all over news reports discussing the controversial and unpopular decision, placing her in an extremely uncomfortable position.
Article continues below advertisement
"Kris is a big supporter of the troops and she's very upset about this," a source with knowledge of the situation told RadarOnline.com exclusively. "She had absolutely nothing to do with the decision to skip the national moment of silence on 9/11 and suddenly she's in the middle of it and it's her face being shown on TV while it's being discussed.
"She isn't saying so publicly but she is furious. She's angry the show put her in this position."
As RadarOnline.com previously reported, backlash against TODAY is growing, with some people using social media to call for a boycott.
One person wrote: "The Today Show chose to continue their interview with Kris Jenner rather than participate in a 9.11 moment of silence. #DISGUSTING."
That tweet perfectly captures Jenner's unfortunate situation.
"She had no idea that she was speaking during the moment of silence," the source told RadarOnline.com. "She has always been such a strong supporter of the troops and now she's caught in this mess and it's NBC's fault, not hers."
Article continues below advertisement