TODAY Show Crisis Grows Over Skipping 9/11 Moment Of Silence For Kris Jenner Interview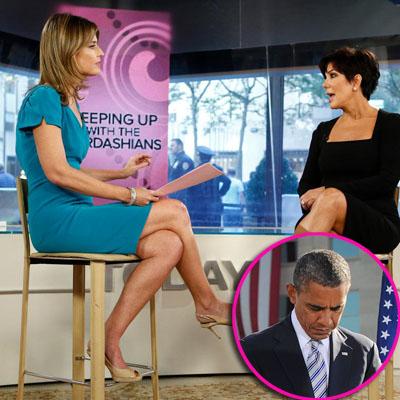 Article continues below advertisement
Even though NBC is sticking by their decision not to acknowledge the moment of silence, many viewers have changed the channel and are even calling for a boycott of the popular morning show.
The public is using social media as a means to dissuade people from watching TODAY by writing things such as:
""BOYCOTT! @NBC be ashamed!"
"Because she's so much more important than those who lost their lives. Boycott this dung heap station."
"The Today Show chose to continue their interview with Kris Jenner rather than participate in a 9.11 moment of silence. #DISGUSTING."
"In other news, I am also glad I quit watching the Today Show months ago. A Kardashian/Jenner over America? Wow."
And it's not just viewers who think it was a bad move for NBC to skip the moment of silence, crisis communications expert Glenn Selig says this incident will likely cause a further drop in the show's already plunging ratings.
Article continues below advertisement
"This was clearly a mistake, intentional or not. Given the raw feelings so many still have about 9/11, it was clearly disrespectful to not only avert coverage, but to supplement its programming airwaves with a reality show star Kris Jenner," he told FoxNews.
"To some Americans, this move will be perceived as being no different than not standing during the pledge of allegiance, or neglecting to remove your hat during the national anthem. It will seem disrespectful and un-American. Many will see the move as not only in poor taste but terrible taste. TODAY should have had the foresight to know that there would be a huge backlash."