Donald Trump Ready To Drop 'Gigantic' Bombshell About President Obama, Claims It Could Swing The Election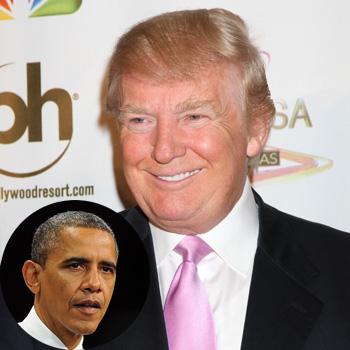 Donald Trump has announced he has a "gigantic" bombshell about Barack Obama – and he's going to drop it Wednesday!
The billionaire real estate tycoon has said he has something huge on President Obama …so huge it could swing the election.
Trump, a die hard Republican who considered running against Obama himself at one point, is planning to reveal the shocker via Twitter at some point on Wednesday, he said.
Article continues below advertisement
Trump told Fox & Friends on Monday that he had "something very, very big concerning the president of the United States. "It's going to be very big. I know one thing - you will cover it in a very big fashion."
Trump is keeping mum about what he has up his sleeve but he promised the "large, bordering on gigantic" news could "possibly" play a role in the election.
If rumor is to be believed, the bombshell could have something to do with Obama's birth certificate.
Trump has been super vocal about the fact he believes Obama was not born in the United States, therefore making him unable to run for president.
He said he believes that Obama's Hawaiian birth certificate is a fake.
Meanwhile a mysterious website called The October Surprise has popped up, which also promises to drop a major political bombshell on Monday.
The website says it will reveal certain documents at 5:30 p.m. but it is not yet known who their target is, or what kind of documents they are referring to.
Article continues below advertisement
The Twitter bio for the site simply reads: "One of your presidential candidates isn't being honest with you.
"Stay tuned to find out which one it is."
It is unclear if the two events are related but both reveals will take place on the same day as the third and final big debate, dedicated to foreign policy.
Trump has always been one of the most outspoken critics of Obama, 51, and has repeatedly called him the "worst president ever."
He is openly backing the president's rival, Republican Mitt Romney.
As RadarOnline.com previously reported, it's also been rumored that famed women's right attorney Gloria Allred is about to pull an "October surprise" of her own, on Romney.
Gossip has reached fever pitch after Drudge Report founder and respected politico, Matt Drudge, tweeted last Thursday: "Here she comes. Hearing Gloria Allred out there again, about to make a move. After all, it's her time of the campaign. Team O at the ready!!"
Article continues below advertisement
Allred, an outspoken supporter of President Barack Obama refused to confirm, or deny, Drudge's prediction, telling RadarOnline.com: "I have no comment at this time about Mr. Drudge's Tweet. I don't discuss meetings with potential clients."
As RadarOnline.com previously reported, during GOP Meg Whitman's run to become governor of California, Allred represented Nicky Diaz, a former housekeeper for the Whitman family. The housekeeper alleged that she was terminated from her employment because she was an illegal immigrant, and that could have derailed Whitman's quest to become California's first female governor. Whitman ultimately lost the election to Democrat Jerry Brown.