Exclusive
Gloria Allred: I Have Never Been Contacted By President Obama's Campaign About A Client Or Case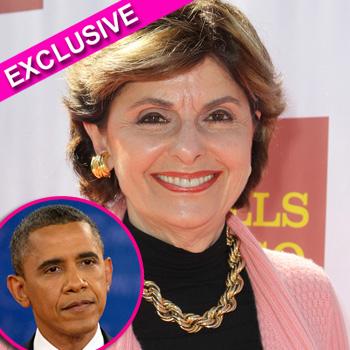 Article continues below advertisement
Allred is representing Stemberg's now ex-wife, Maureen Sullivan Stemberg, who doesn't have any objection to the testimony to be released. Romney allegedly falsely testified about the value of Staples, which his venture capital firm, Bain Capital invested a substantial amount of money in, and what a great father Tom was to his sons.
Allred tells RadarOnline.com exclusively, "President Obama's campaign has not contacted me about any client or case in which I have been involved, nor have I ever contacted the Obama campaign about any client or case in which I have been involved."
According to Fox News, Allred, an outspoken supporter of President Obama, spoke with the Commander-in-Chief for a few minutes during a Los Angeles fundraiser recently, prompting speculation Obama knew about the upcoming Romney "October surprise".
"I'm a very proud supporter of President Obama. I was an elected Obama delegate to the Democratic National Convention, I just had a few words with the President. He was very kind to me," Allred told Fox News reporter Jesse Walters. "He had some very kind words to me. And he knows of my work for women's rights. And I of course am very appreciative of everything he has done and everything I know he will do in four years for women's rights. And it's so essential that we re-elect President Obama because the alternative is just unthinkable."
MORE ON:
Celebrity Justice
Article continues below advertisement
As we previously reported, Boston Judge Jennifer Ulwick is expected to decide Thursday if Romney's testimony transcript will be released to the public and unsealed.
"This is a decades-old divorce case in which Mitt Romney provided testimony as to the value of a company. He has no objection to letting the public see that testimony," Mitt's attorney said in a statement to RadarOnline.com on Wednesday.