Exclusive
Gloria Allred's Surprise For Mitt Romney Revealed!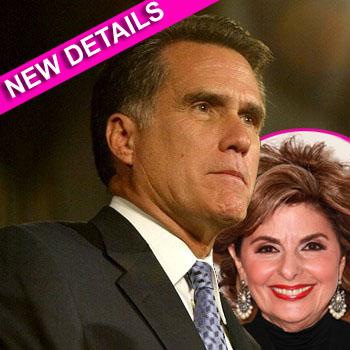 By Jen Heger - RadarOnline.com Assistant Managing Editor
11:15 a.m. EST- UPDATE: The hearing has been delayed by one day. It's now scheduled for Thursday at 9 a.m. EST.
10 a.m. ET- UPDATE: The Associated Press reports Gloria Allred arrived at court with the former wife of Staples founder Tom Stemberg to tell a judge that she does not object to unsealing testimony given by presidential candidate Mitt Romney in her divorce case.
Article continues below advertisement
Gloria Allred's October surprise for Governor Mitt Romney involves allegations about a child custody matter that the Republican presidential hopeful testified about involving his very good friend, the former CEO of Staples Tom Stemberg, and his divorce form one of his two ex-wives, RadarOnline.com is reporting.
The founder of Staples, who spoke on behalf of Governor Mitt Romney at the Republican National Convention in Tampa Bay, Florida last summer, has four sons from two different ex-wives, Maureen Sullivan Stemberg and Dola Hamilton Stemburg. Mitt Romney's hedge fund, Bain Capital, was an early investor of Staples. Tom Stemberg's sons are in their mid-teens and early twenties.
"Governor Mitt Romney gave sworn testimony about his observations of Tom's role as a father to his four sons," a source close to the situation told RadarOnline.com. Our source wouldn't provide any additional information because of Governor Romney's sworn declaration and gag order.
Stemberg's first wife, Maureen, had a documentary, The Maureen Sullivan Stemberg Story: A Portrait in Courage, which aired on Lifetime. According to a 2008 press release, "Maureen Sullivan Stemberg will provide an in-depth account in this first-time tell all tale of the interweaving relationships and strange bedfellow that business has made in her life. Such luminaries include former Governor of Massachusetts, Mitt Romney - who was the former Republican nominee in the 2008 Presidential campaign, as well as one of the first major investors for Staples while he was employed by Bain Capital, Boston, MA. This story will include the injustice of the Mass. Probate Justice system. Other heavy hitting names have yet to be released in this as of yet untold story including Dola Davis Hamilton Stemberg."
Article continues below advertisement
Tom Stemberg's divorce attorney, Joel Kozel is expected to be at the family law courthouse in the Boston area on Wednesday morning as the Boston Globe petitions to have the court records unsealed.
As RadarOnline.com was the first to report exclusively, the Boston Globe will be in court for an emergency hearing "in an attempt to obtain a court order to unseal the sworn testimony given by Mitt Romney in a prior court case and to lift a gag order so that the parties can speak about Romney. Gloria Allred will be in court representing one of the parties in the case," a source close to the situation previously told us.
"Ms. Allred's client feels that the public needs to know about Governor Mitt Romney's role in this very important case. Governor Romney is running for President of the United States and this goes to a very important character issues," the insider revealed. It's unclear if Governor Romney will have lawyers present at the hearing on Wednesday morning.
The emergency hearing will take place at the Norfolk Probate & Family Court in Canton, Massachusetts, and Justice Jennifer Ulwick will oversee the proceedings which will begin at 9 a.m. EST.
Article continues below advertisement
Stemberg founded Staples and was the CEO for 16 years. According to the Huffington Post, "Bain Capital, the private equity firm that Romney helped found, was one of the early investors in Staples, and the former Massachusetts governor remained on the retailer's board for more than a decade. In claiming he helped create some 100,000 jobs in the private sector over the years, the Romney campaign has leaned heavily on the success of the office supplier, citing roughly 90,000 Staples jobs in their math."
Romney's pal was featured at the RNC last summer and addressed the delegates and said, "He (Mitt Romney) never looked at Staples as merely a financial investment. He saw the engine of prosperity it could become. Today Staples employs nearly 90,000 people. It has over 2,000 stores, over 50 distribution centers, and it is part of a competitive industry that helps entrepreneurs and small businesses get started on their own. You have to ask yourself, why would an administration that can't create any jobs demonize someone who did?"
Article continues below advertisement
According to a report from the National Employment Law Project Action Fund, Staples is one of the lowest wage employers in the country.
During a interview with PBS' Frontline earlier this year Stemberg said the first time he met Romney, "when you first walked in and saw Mitt, he looked like a guy who ought to be president of the United States. This guy, he looked perfect; he dressed perfect; he spoke perfectly. He asked the most poignant questions in a very, very nice way and didn't make you feel defensive and really drew the best or worst out of you. He was just really, really good."
Stemberg also said that Mitt Romney was no shrinking violet and wasn't concerned about his friend entering politics when he decided to run for governor of Massachusetts. "Nobody pushes Mitt Romney around. Having said that, if there's one person whom he will almost always defer to, it's Ann Romney," Stemberg told PBS.
Most polls indicate that the presidential race between Barack Obama and Mitt Romney is a statistical dead heat.
Article continues below advertisement