No October Surprise Here! Bill O'Reilly Has On-Air Meltdown Over Presidential Debate 'NOBODY Won!'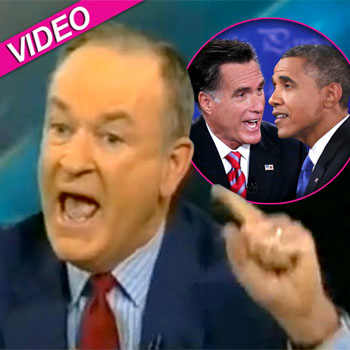 Tell us how you really feel Bill!
Controversial talking head, Bill O'Reilly has slammed the third and final presidential debate, in his usual indomitable manner, calling it a "waste of time" and RadarOnline.com has video of his highly charged rant.
The Fox News hot head also dismissed the debate as being weak and "out of date."
Getting all hot and bothered on his show The O'Reilly Factor Tuesday night, he screamed: "NOBODY won! But we the American people lost. That's because the debate was BORING!
Article continues below advertisement
"Same old stuff over and over, and where were the pointed questions by Bob Schieffer? All the questions were GENERAL, which allowed both candidates to recite their talking points."
Veteran news anchor Schieffer, 75, moderated the final presidential debate on Monday night where Barack Obama and Republican Presidential challenger Mitt Romney thrashed out their intentions and views on foreign policy.
But O'Reilly blasted Shieffer for not asking penetrating enough questions and basically letting the two candidates spout propaganda.
O'Reilly, 63, also had a theory for why Mitt Romney wasn't more aggressive towards President Obama.
"Many ladies do not like confrontation," O'Reilly, who has had his own share of experience on that matter, with a crumbling marriage and sexual harassment lawsuit which was settled out of court, under his belt, charged.
However, fellow politics expert Charles Krauthammer completely disagreed with O'Reilly.
Article continues below advertisement
He said that if the public wanted "information" they could get an encyclopedia.
O'Reilly shot back with: "I don't understand why you're supporting this system, which is number one out of date and number two a waste of time.
"The moderator basically is setting them up for propaganda purposes! All the moderator has to do is make the questions, Charles, sharply focused!"
He continued to rant: "What would have been wrong with posing a sharp question about Libya in a foreign policy debate TO GET IT ROLLING?"