Donald Trump At War With News Anchor Brian Williams Over Election Tweets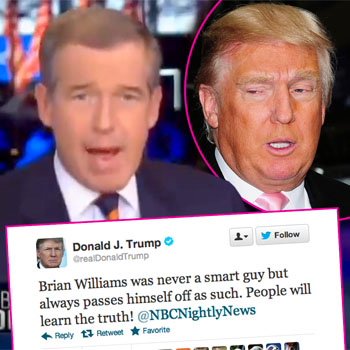 Article continues below advertisement
Shortly thereafter Williams read Trump's tweets out on air saying: "Reluctant as we are to pass this along it nonetheless is – as we say – out there and getting an airing tonight so you might as well know about it.
"Donald Trump, who has driven well past the last exit to relevance and veered into something closer to irresponsible…is tweeting tonight.
"Here's a sampling: 'More votes equals a loss…revolution! This election is a total sham and a travesty. We are not a democracy…Disgusting injustice. The world is laughing at us'. And so on.
"So there you have it. THAT happened."
Hours later Trump came out swinging on his Twitter page writing: "Brian – Thanks dummy – I picked up 70,000 Twitter followers yesterday alone. Cable news just passed you in the ratings."
He also wrote: "Brian, if I'm 'well past the last exit to relevance' how come you spent so much time reading my tweets last night?"
On Wednesday Trump wrote on his Facebook page "Amazing, various celebrities were far harsher than me with political statements – but the media doesn't care about them…"
Article continues below advertisement