Celebrities React To President Barack Obama's Win Over Mitt Romney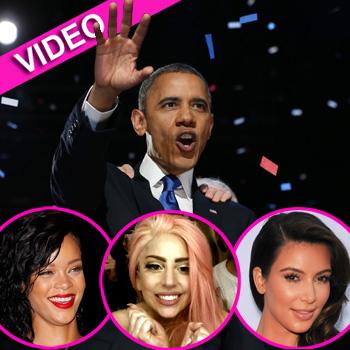 President Barack Obama was elected to his second term in the Oval Office Tuesday, defeating ex-Massachusetts Gov. Mitt Romney with a 49.8 percent share of the popular vote, and some of Hollywood's biggest stars are among those celebrating his win.
The president, delivering his victory speech in his hometown of Chicago, said, "We are greater than the sum of our individual ambitions, and we remain more than a collection of red states and blue states. We are and forever will be the United States of America.
Article continues below advertisement
"And together with your help and God's grace we will continue our journey forward and remind the world just why it is that we live in the greatest nation on Earth.
"Thank you, America. God bless you. God bless these United States."
Watch the video on RadarOnline.com
The entertainment universe was predominantly pleased in reaction to the president's win, with a roll call of A-listers tweeting in jubilation over the commander-in-chief's defeat of Romney.