That's What You Call Election Fatigue! Sobbing Four-Year-Old Caught On Camera: 'I'm Tired of Bronco Bamma & Mitt Rom-en-ey!'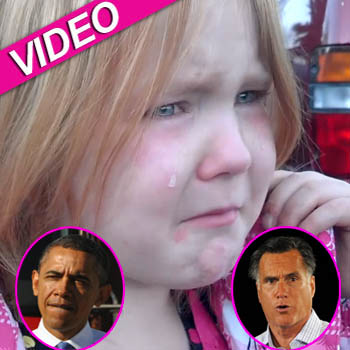 A little girl has articulated the feelings of many adults in America, breaking down and sobbing over "Bronco Bamma and Mitt Rom-en-ey" and RadarOnline.com has the endearing video.
Fort Collins mom, Elizabeth Evans uploaded the video of four-year-old Abigael's tearful encounter, which was sparked after more election coverage than the little girl could bear.
"Why are you crying Abby?" Mom asks.
Article continues below advertisement
"Just because I'm tired…. I'm tired of Bronco Bamma and Mitt Rom-en-ey," the little girl sobs.
"Don't worry, it will be over soon," mom reassures her. "It will be over soon."
Evans explained to 9News that the tearful outburst was prompted by an NPR election story as they drove to the grocery store.
Mom wisely chose to switch the radio off and put on a Neil Young CD for their drive home!
Meanwhile, never fear little Abby…. the end IS in sight.