The Couple That Prays & Sweats Together, Stays Together! Michelle Obama Reveals Relationship Secrets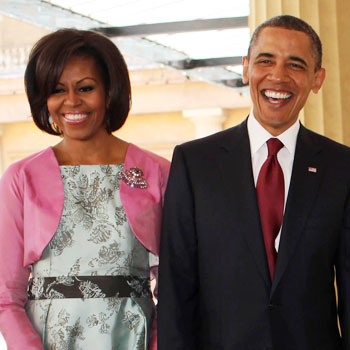 It's hard maintaining a sense of normalcy in a relationship when you are married to the President of the United States, but apparently the Obamas know the secret to success!
In the November 2012 issue of Good Housekeeping magazine, Michelle Obama opens up about her marriage to Barack and reveals how they maintain their relationship despite his busy and demanding schedule, and RadarOnline.com has the details.
Article continues below advertisement
"There's nothing that prepares you for this life," the First Lady reveals about life in the White House. "And we're the only two people who really understand it."
In addition to being totally honest with each other, she explains they "stay connected" day-to-day, by exercising together.
"We work out together every day," she dishes. "I usually get up to the gym a little before he does, because I start my day a bit earlier – I have hair, makeup, things that he doesn't have to do. I continue to remind him of that. He usually gets up there when I'm halfway through, so we spend the morning checking in, watching SportsCenter."
On the weekends, Michelle and her husband "catch a movie together, have a quiet dinner."
The first family also dines together every night, where they engage in daily prayer.
"Dinner is at 6:30 p.m. if it means he has to go back and work meetings afterward, he'll do it.
"We pray at every meal. Our prayer – the kids usually say it – is, 'Thank you, Lord, for the delicious food. Thank you for our friends and family and everything we have. Hope we all live long and strong. Amen.'"